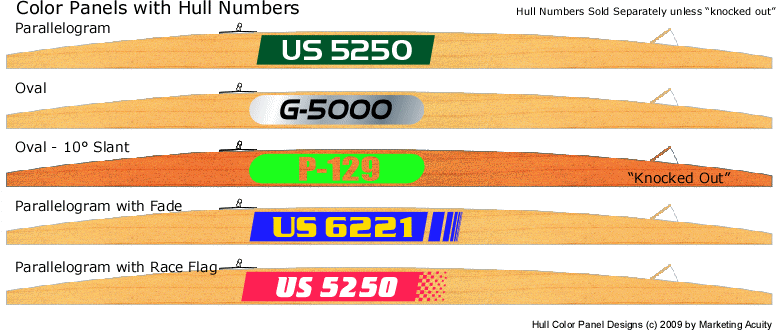 Made from the same solid, professional-grade vinyl as our DN ice boat hull numbers, these panels add a splash of color and visibility to an ice boat – from a DN to a Skeeter, Nite, Renegade, Ice Opti, Gambit, or J-boat. Choose the flourescent red (port) and green (starboard) panels for extra safety, or one of our standard colors.
For DNs, hull numbers can be "knocked out" of the graphics, or layer the graphics with a hull number style to fit your boat and personality.
Have something else in mind but don't see it here? Send us an e-mail and we'll work with you to design custom graphics for your boat. We can also do university-inspired color schemes and graphics, but due to trademark restrictions, we can't display them here.
SaveSav
Color Panels with Knockout Numbers:
Color Panels (for layering with DN Hull Number Sets, must be ordered simultaneously)